♦Around and About to Ed Hand and Hank Bonner's Gardens
Thursday, March 17, 2022
2022 WGC Garden Tour
April 2, 2022
Garden #2 – Linda Umla and Viv Munden – Click for Photos
Garden #3 – Gary and Amy Swedenborg – Click for Photos
Garden #4 – Anne and Stephen Hlasnicek – Click for Photos
All Photos are courtesy of Paige Griffin
Spring Luncheon/Scholarship Presentations
Monday, May 2, 2022
Memorial Day Parade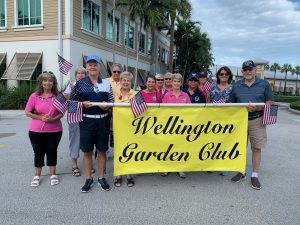 Caladium Festival in Lake Placid
July 30, 2022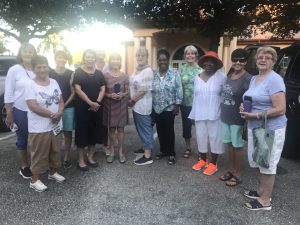 Fifteen Wellington Garden Club Members went to enjoy the annual Caladium Festival in Lake Placid.  There was so much to do and not enough time to do it all.
The group enjoyed a 1- hour narrated bus tour to see the actual caladium fields and learned a lot  about caladiums and the small town of Lake Placid.
Following the tour we broke up into small groups to visit the flower show, the Arts and Craft Co-op and
naturally purchased caladium plants and bulbs for our own gardens.   After that we enjoyed lunch together before heading home.
Teresa Cummings and Carol Lazzarino decided to make it a two- day trip to enjoy all that Lake Placid had to offer and you needed two days to really enjoy it all.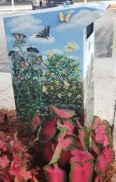 Lake Placid has over 49 large, painted murals and awesome hand- painted trash containers all over the town depicting the history of the area.
They also have a wonderful clown museum and a school to learn how to be a clown.
Don't miss the historic train depot and museum.