National Garden Week
The first week of June each year is observed as National Garden Week.  A proclamation is issued by National Garden Clubs, Inc. (NGC) and garden clubs across the country celebrate the week in a wide variety of ways in order to promote the NGC objectives of beautification, education of environmental efforts, gardening, and to demonstrate the involvement of garden clubs in their local communities.
.

For Wellington Garden Club this week is an opportunity to encourage pride in our community, educate the public regarding best gardening practices, interest new members, and work with other groups to be part of those efforts.  We begin by downloading the National Garden Week proclamation from the NGC Website and inviting the mayor to sign this proclamation and present it at a club meeting. The proclamation also is shared with club members and the general public via our club's website. Click for PROCLAMATION.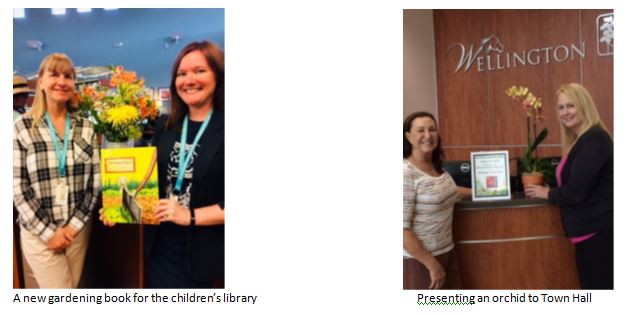 Other activities during National Garden Week include preparing and delivering floral designs and plants to municipal offices and businesses that support our club. Sometimes members plan a program, workshop or activity at the Wellington Library to share their knowledge with the public. Gardening activities with the youth to encourage a love of gardening and nature are also an important part of the week.  At the end of the week, a write up and photos of the National Garden Week activities are sent to the local newspapers.