Around and About Event
Thursday, January 18, 2018
Washed Ashore Sculptures at Mounts Botanical Garden
followed by
Solid Waste Authority Recycling
Mounts Botanical Garden:  559 N Military Trail, West Palm Beach, FL   http://www.mounts.org
Solid Waste Authority:  7501 N Jog Rd., West Palm Beach, FL     http://www.swa.org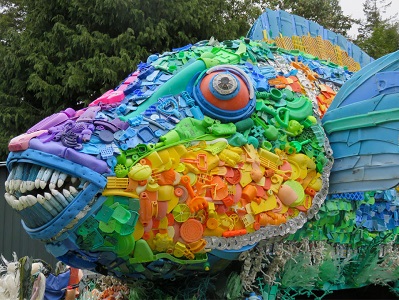 Washed Ashore Sculptures:  This exciting exhibit features 10 giant sea life sculptures made entirely of marine debris collected from beaches to graphically illustrate the tragedy of plastic pollution in our oceans and waterways and to encourage conservation.
Solid Waste Authority Recycling:  Get an up-close look at the SWA's Integrated Solid Waste Management System.  See what happens when your garbage and recycling leave the curb.  Gain a deeper understanding of why it is important to Reduce, Reuse, Recycle and Rethink! waste.  This is both a walking and bus tour of this innovative, state-of-the-art recycling center.
Click here for SWA WAIVER OF LIABILITY, HOLD HARMLESS AGREEMENT
Note:  Closed-toed shoes required.
Cost:                $18.00
Tours:              9:30 to 11:00AM at Mounts;    1:00PM at SWA
Lunch:            BYO lunch and dine in the garden
CARPOOL:
West – Wellington Community Center Parking lot: Leave 9:00AM Sharp
East IHOP 6708 Forest Hill Blvd: Leave 9:00AM Sharp
Contact:  Terrianne Tuskes  561-346-2617  or email petmother@aol.com